Welcome to the Tiburon Fire District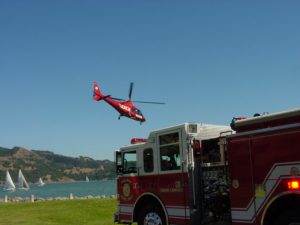 Tiburon Fire Protection District is a combination department with 21 career safety employees, one clerical and one finance officer, 18 volunteer firefighters, and six trainee firefighters. Protecting the town of Tiburon, California, Belvedere, California, and surrounding area, the Fire District's boundaries represent a diverse community with responsibility for commercial, residential, wildland/urban interface, and parts of the San Francisco bay to Angel Island State Park.
It is the mission of the Tiburon Fire Protection District to provide all-risk preparation and response which enhances the safety and well-being of the citizens and visitors and their property prior to and during fire, medical, and environmental or man-made emergencies.
SUMMER 2015
REMINDER TO REVELERS: FIREWORKS ARE ILLEGAL IN MARIN COUNTY!
4th of July Notice        Fireworks Statistics 2015 CSFA
TIBURON TRIATHLON – July 26, 2015
For details please click here: http://tibfire.wix.com/tiburontriathlon
French broom and Scotch broom are invasive non-native plants to Marin.  The yellow-flowered, fragrant shrubs displace native vegetation, spreading quickly to form large stands that crowd out native species.  Brooms increase the potential for wildfires, as the plants burn readily and provide a "ladder" to tree canopies.  Vast swaths on GGNRA, MMWD and Mt. Tam State Park lands, and Tiburon Open Space parcels are covered by broom.
Please watch this excellent video, created by three Marin high school students, to learn how you can help. The video features interviews with an open space volunteer, the Marin County Fire Chief, local botanist Eva Buxton, Tiburon Resident Jerry Riessen.
Please visit http://www.readysetgomarin.org/ for additional wildfire preparedness information.
SATURDAY, JUNE 6, 2015 – The Tiburon Fire District participated in the 6th Annual Marin County Sidewalk CPR on Saturday, June 6th and the event went great! Thank you to all who participated and volunteered their time!
photo credit: Elliot Karlan
FIRE EXTINGUISHER RECALL INFO:
Kidde Recalled Fire Extinguishers