Welcome to the Tiburon Fire District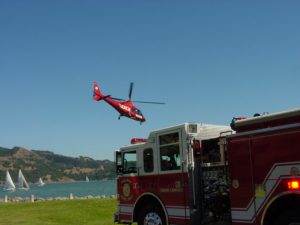 Tiburon Fire Protection District is a combination department with 21 career safety employees, one clerical and one finance officer, 18 volunteer firefighters, and six trainee firefighters. Protecting the town of Tiburon, California, Belvedere, California, and surrounding area, the Fire District's boundaries represent a diverse community with responsibility for commercial, residential, wildland/urban interface, and parts of the San Francisco bay to Angel Island State Park.
It is the mission of the Tiburon Fire Protection District to provide all-risk preparation and response which enhances the safety and well-being of the citizens and visitors and their property prior to and during fire, medical, and environmental or man-made emergencies.
NOVEMBER:
---
We would like to thank the Reed Elementary School children who participated in our Fire Prevention Week poster contest and we look forward to welcoming them to our station for a special visit to honor their hard work. To see each of the fantastic entries, visit our Facebook page at https://www.facebook.com/Tiburon-Fire-Protection-District-364851503759/  or click here for an overview: 2015 Fire Prevention Week Reed School Poster Contest
DECEMBER:
---
Come join in the festivities in downtown Tiburon on Saturday, December 5th! Holiday Fest_2015
The TFPD is a drop off location for Toys for Tots! Please bring new and unwrapped toys to our headquarters station at 1679 Tiburon Blvd. and help us help the Marines in giving less fortunate children a happy holiday season!
Planning on decorating with a tree in your local business or place of public assembly for the holidays? Please read the following guidelines: Holiday_Tree_guidelines for businesses_2015
FIRE EXTINGUISHER RECALL INFO:
Kidde Recalled Fire Extinguishers