Welcome to the Tiburon Fire District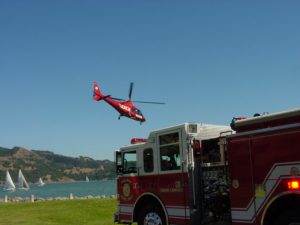 Tiburon Fire Protection District is a combination department with 21 career safety employees, one clerical and one finance officer, 18 volunteer firefighters, and six trainee firefighters. Protecting the town of Tiburon, California, Belvedere, California, and surrounding area, the Fire District's boundaries represent a diverse community with responsibility for commercial, residential, wildland/urban interface, and parts of the San Francisco bay to Angel Island State Park.
It is the mission of the Tiburon Fire Protection District to provide all-risk preparation and response which enhances the safety and well-being of the citizens and visitors and their property prior to and during fire, medical, and environmental or man-made emergencies.
MAY 2015
EMPLOYMENT OPPORTUNITY: FIREFIGHTER-TRAINEE
The District is seeking highly energetic and motivated candidates for the entry-level position of Firefighter-Trainee.
THURSDAY, MAY 28, 2015 – 18th Annual North Bay Firefighter Burn Relay, a benefit for the Alisa Ann Ruch Burn Foundation
2015 North Bay Relay Press Release
Recalls for affected fire extinguisher models. Please click on the links below for more information.
Kidde Recalled Fire Extinguishers
Recalled Fire Extinguishers_notice