COME JOIN US AT OUR DIAMOND JUBILEE CELEBRATIONS
ON SEPTEMBER 30TH & OCTOBER 1ST!!!
TIBURON FIRE PROTECTION DISTRICT'S 75TH ANNIVERSARY FESTIVITIES WILL INCLUDE THE FOLLOWING:
SEPTEMBER 30TH – Friday Nights on Main (FNOM) will feature Wonder Bread 5 as the dance entertainment. Bring the whole family for an evening of fun and fireworks!
OCTOBER 1st – During the day there will be a parade of engines and display at Shoreline Park. This includes a fireboat demonstration too! Saturday evening, we will be holding a Firefighters' Ball with live music by The Fundamentals at the Corinthian Yacht Club.
Interested in making a donation or becoming a sponsor of this event? CLICK HERE!
Is has been the Fire District's pleasure to be of service for the last 75 years (and many more to come) and we look forward to celebrating with everyone at the Diamond Jubilee!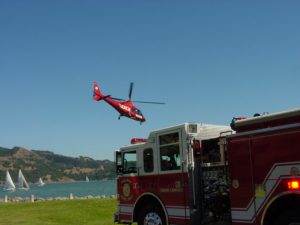 Tiburon Fire Protection District is a combination department with 21 career safety employees, one clerical and one finance officer, 18 volunteer firefighters, and six trainee firefighters. Protecting the town of Tiburon, California, Belvedere, California, and surrounding area, the Fire District's boundaries represent a diverse community with responsibility for commercial, residential, wildland/urban interface, and parts of the San Francisco bay to Angel Island State Park.
It is the mission of the Tiburon Fire Protection District to provide all-risk preparation and response which enhances the safety and well-being of the citizens and visitors and their property prior to and during fire, medical, and environmental or man-made emergencies.
Please support the Tiburon Volunteer Fire Department by coming to the fire station at 1679 Tiburon Blvd. to purchase your traveler mug and water bottle for $10 each!
2016 TIBURON TRIATHLON RESULTS! Click here: Results
FIRE EXTINGUISHER RECALL INFO:
Kidde Recalled Fire Extinguishers