Tiburon Fire Protection District is a combination department with 21 career safety employees, one clerical and one finance officer, 18 volunteer firefighters, and six trainee firefighters. Protecting the town of Tiburon, California, Belvedere, California, and surrounding area, the Fire District's boundaries represent a diverse community with responsibility for commercial, residential, wildland/urban interface, and parts of the San Francisco bay to Angel Island State Park.
It is the mission of the Tiburon Fire Protection District to provide all-risk preparation and response which enhances the safety and well-being of the citizens and visitors and their property prior to and during fire, medical, and environmental or man-made emergencies.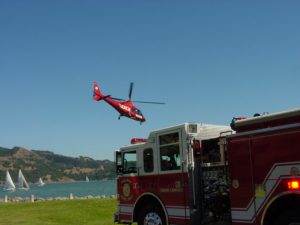 NORTH BAY FIRES:
TFPD currently has two engines with personnel deployed to the multiple fires in the North Bay.
Info & Ways to Help_North Bay Fires
FOR UPCOMING EMPLOYMENT OPPORTUNITIES WITH TFPD:
Tiburon Triathlon Announcement:
After 25 great years, this event has come to an end. There will be no Tiburon Triathlon this year. Tiburon Volunteer Fire Department thanks all of the participants and volunteers who have supported the event over the past many years.
SANDBAGS
For local sandbag info: sandbag-info-2016
Please support the Tiburon Volunteer Fire Department by coming to the fire station at 1679 Tiburon Blvd. to purchase your traveler mug and water bottle for $10 each!
2016 TIBURON TRIATHLON RESULTS! Click here: Results
FIRE EXTINGUISHER RECALL INFO:
Kidde Recalled Fire Extinguishers