PSPS – Please sign up for PG&E alerts at pge.com/pspszipcodealerts to receive notification when a PSPS has been confirmed for your area. Make sure to sign up for local Belvedere and Tiburon alerts at AlertMarin.org.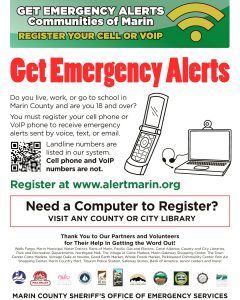 The County of Marin, including the Town of Tiburon and City of Belvedere, uses Alert Marin for emergency notifications. Please register at www.alertmarin.org (Please Note: even if you are registered with Nixle, in order to receive emergency alerts in Marin County, you MUST register with Alert Marin).
TO CHECK AIR QUALITY: http://www.baaqmd.gov/
We are a Toys for Tots Donation drop off site from now until December 13, 2019! Please bring new and unwrapped toys ONLY to 1679 Tiburon Blvd, M-F, 9AM-5PM.