Get Ready 94920 Event – 10/16/22
Marin County Fire Chiefs Launch New Website
 Marin County, July 20, 2022.
The Marin County Fire Chiefs are pleased to announce the launch of the new website,
www.readymarin.org
. At the start of another fire season, the timely re-launch of the site offers a clear and easy approach for anyone in the community to learn more about disaster preparedness.
The site focuses on planning and preparation for the many threats Marin County faces everyday including wildfire, earthquakes and flooding. With easy and clear navigation, the site contains vital information for residents of all ages on how they can prepare their family and home as well as building community resilience.
"Our goal is to make disaster preparedness accessible to everyone, and our new site has resources from how to pack a go-bag, making evacuation plans to signing up for disaster preparedness classes," said Elaine Wilkinson, Marin County's Emergency Preparedness Coordinator. Ruben Martin, Marin County Fire Chief President added, "Ready Marin is a great resource for  residents to learn about disaster preparedness in order to be  able to take care of themselves, their families, and their neighbors during and after a disaster".
The new site enhances and simplifies the user experience, enabling the public to easily access documents and information.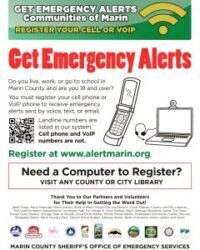 SANDBAG INFO:
Tiburon – Self-serve sandbag filling stations are available at Blackie's Pasture gravel parking lot and at the Tether Park tennis courts parking lot near Beach Road.
Belvedere – There are marked wooden sandbag-filling stations on Lagoon Road across from Maybridge Road, on Community Road at Mallard Road and across from 73 West Shore Road.
FOR PURCHASE:
Shamrock Materials (415) 455-1575, 548 DuBois St, San Rafael
Flood bags – ready-made
Goodman's, (415) 388-6233, 775 Redwood Hwy., MV
Have bags – empty and full
Water Components, (415) 451-1780, 44 Simms, SR (near Marin Sanitary)
Have bags – empty and full
IF YOU SHOULD HAVE FURTHER QUESTIONS REGARDING SANDBAGS IN BELVEDERE OR TIBURON, PLEASE CONTACT BDPW OR TDPW.