Tiburon Triathlon Details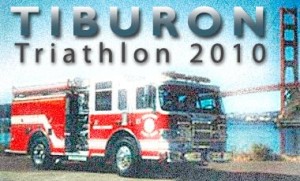 The twenty-fourth annual Tiburon Triathlon will be on the 27th of July 2014 – as always, the last Sunday in July. The course is a half mile swim (not measured, so it varies from year to year), a nine-mile bike ride, and a two mile run. Proceeds benefit the Tiburon Volunteer Firefighters Association.
When: 27 July 2014; 7:30 a.m. (registration at 6:30 a.m.)
Where: Belvedere Community Park
Results for 2013 and prior years are available at www.buzzwordproductions.com.
Registration for 2014 Tiburon Triathlon will be handled through www.active.com. We will close online registration around mid July or when we are full. We will NOT  have same day registration on the morning of the Triathlon.
BASIC STUFF:
Check-in begins at 6:30 a.m. After the swim, you will need to run about two blocks from the swim area to the bike transition. We close the course at 9:30 a.m. or so.
We want you to have a safe and fun day. Because participants can shortcut the swim or receive assistance and still finish, it is not a race. It is just for fun.
Participants should arrive at 6:30 a.m. at Belvedere Community Park. Be sure to bring your helmet. When you arrive, rack your bike or lay it on the lawn to the north or far right end of the park. At check-in, we will give you a printed number and a color-coded swim cap. Have your limbs numbered. After the triathlon, present your number to pick up a goodie bag and T-shirt.