Welcome to the Tiburon Fire Department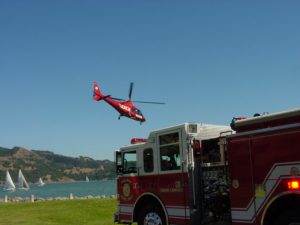 Tiburon Fire Protection District is a combination department with 21 career safety employees, one clerical and one finance officer, 18 volunteer firefighters, and six trainee firefighters. Protecting the town of Tiburon, California, Belvedere, California, and surrounding area, the Fire District's boundaries represent a diverse community with responsibility for commercial, residential, wildland/urban interface, and parts of the San Francisco bay to Angel Island State Park.
It is the mission of the Tiburon Fire Protection District to provide all-risk preparation and response which enhances the safety and well-being of the citizens and visitors and their property prior to and during fire, medical, and environmental or man-made emergencies.
FOR IMMEDIATE RELEASE                 
For More Information:
Alisa Ann Ruch Burn Foundation
Jennifer Radics, Executive Director
818-848-0223  |  1-800-242-BURN (2876)
FAX: 818-848-0296  |  www.aarbf.org
17th Annual Relay of Firefighter Heroes
Firefighters and local fire agencies host annual event to benefit burn survivors
Marin County, CA – North Bay fire departments, members of emergency response agencies and California Highway Patrol will rev up and roll through Sonoma and Marin County on Thursday, May 29th for the 17th Annual North Bay Firefighter Burn Relay, a benefit for the Alisa Ann Ruch Burn Foundation (AARBF).
This annual fundraising parade of antique and modern emergency vehicles will kick off at Healdsburg Fire Department (601 Healdsburg Ave.), and make its way through the North Bay starting in Sonoma County and ending in Marin County. The North Bay Firefighter Burn Relay will end in a grand finale at Southern Marin Fire Station 1 located in Sausalito (333 Johnson Street).
"We are thrilled to have the support of the North Bay fire departments and California Highway Patrol for the 17th Annual North Bay Firefighter Burn Relay," said Jennifer Radics, Executive Director for Alisa Ann Ruch Burn Foundation. "Last year this relay raised more than $43,000 which helped us serve 600 burn survivors and provide prevention education to more than 30,000 students throughout the state of California."
Participating Fire Departments include: Healdsburg Fire Department, Windsor Fire Department, Central Fire, Rincon Valley Fire Department, Santa Rosa Fire Department, Sebastopol Fire Department, Gold Ridge Fire Department, Rohnert Park Department of Public Safety, Rancho Adobe Fire Department, Petaluma Fire Department, Novato Fire Department, Marinwood Fire Department, San Rafael Fire Department, Ross Valley Fire Department, Kentfield Fire Department, Larkspur Fire Department, Corte Madera Fire Department, Tiburon Fire Department, Mill Valley Fire Department, Marin County Fire Department and Marin City Fire Department.
Along the relay route, with the assistance of the California Highway Patrol, our local firefighters will collect donations raised by numerous fire and public safety agencies through annual community events, like golf tournaments, pancake breakfasts and spaghetti dinners, and formally present the funds to the Alisa Ann Ruch Burn Foundation. Funds raised support the mission of AARBF and will provide services to burn survivors and support burn prevention education programs in the community.
The Alisa Ann Ruch Burn Foundation is a 501(c)(3) nonprofit organization dedicated to enhancing the quality of life of burn survivors and promoting burn prevention education in the community.  For more information, please contact Jennifer Radics, 818-848-0223 or via email jradics@aarbf.org.
# # #