Welcome to the Tiburon Fire District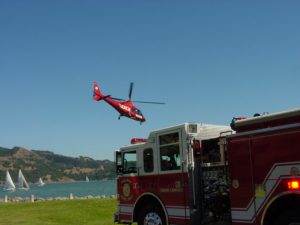 Tiburon Fire Protection District is a combination department with 21 career safety employees, one clerical and one finance officer, 18 volunteer firefighters, and six trainee firefighters. Protecting the town of Tiburon, California, Belvedere, California, and surrounding area, the Fire District's boundaries represent a diverse community with responsibility for commercial, residential, wildland/urban interface, and parts of the San Francisco bay to Angel Island State Park.
It is the mission of the Tiburon Fire Protection District to provide all-risk preparation and response which enhances the safety and well-being of the citizens and visitors and their property prior to and during fire, medical, and environmental or man-made emergencies.
PRESS RELEASE
STORM POTENTIAL – Information and Safety  
December 9, 2014
PIO: Jessica Power, 415-531-3883
WEATHER FORECAST
A very wet storm system will bring substantial rainfall to our area beginning Wednesday night over the North Bay and spreading to the South through the day Thursday. Rain will likely be heavy at times which will increase the risk for flooding.  The National Weather Service has issued a flash flood watch that is in effect from late Wednesday night until late Thursday night.
High tides often cause flooding issues or flooding worse.  Be aware of the high tides in our area during these stormy days.  Wednesday high tides will be at 2:45 am and 1:14pm.  Thursday high tides will be at 3:27am and 2:00pm.  Friday high tides will be at 4:09 am and 2:53pm.  None of the tides are king tides or exceptionally higher than average but could potentially worsen flooding in areas on our peninsula.
The heavy rain conditions create a risk for landslides.  If you suspect a potential for landslide, contact an engineer or your local Department of Public Works.  If you discover any earth movement or landside, immediately leave the area.  Make sure you know multiple ways out of your home and yard in case you need to evacuate quickly.
In addition to the rain, a high wind watch is also in effect from Wednesday evening through Thursday afternoon. Winds of 20-30 mph with gusts well over 40 mph are predicted for urban locations.  Winds of 30-40 mph with gusts well over 60 mph are predicted for higher elevation locations.
The winds could cause downed trees and falling power lines, causing widespread power outages.  In the event of a power outage, current information on the cause and expected time for the power to be restored can be found by calling PG&E's 24 hour hotline at (800) 743-5000.
Be prepared for the upcoming storm!  Follow updated weather forecasts and emergency weather advisories at www.weather.gov
Below is some helpful information on preparing yourself and your home for the upcoming weather conditions.  Additional information can be found in your Get Ready manual or at www.getready94920.org
FLOOD/ SANDBAGS
If you are in an area likely to flood, please obtain sandbags, plywood, plastic sheeting, and lumber on hand. Remember when placing sandbags, do not stack sandbags against your building's foundation and stack them appropriately.  A guide on how to stack sandbags can be found in the Get Ready manual.  If you do not have a manual, it can be found at GetReady94920.org.
Sandbags are available to Belvedere residents in three locations: Lagoon Road @ Maybridge; West Shore Road @ 73 West Shore; and Community Road @ City Hall.
Tiburon residents can obtain sandbags at a free sandbag station at the Tiburon Police Station, in the lower parking lot.  Sandbags are also available for purchase at Goodman's Hardware in Strawberry, Martin Brother's supply on Shoreline Highway in Tam Valley, or Jackson's hardware and Shamrock materials in San Rafael.
In a heavy, continuous rain storm, there will be normal flooding in areas in and around the drainage inlets. In addition, driveway areas, street corners, and low lying sections of the roadway will flood. If you are aware of any drainage failure that is resulting in local flooding to a significant degree, contact the Belvedere Police Department at 435-2611 or City Hall at 435-3838. If it is an emergency – life or death – use the emergency number 9-1-1 – otherwise, use the non-emergency number 435-2611. The Police Department will notify the appropriate response personnel.
WIND
Heavy winds will cause patio furniture and other loose items to blow around and potentially break sliding glass doors.  Please secure all patio furniture, boats, and other items in your yard that could get blown around.
FALLEN TREES
If you come across a fallen tree, please call the appropriate police department and they will notify public works to respond.  In Tiburon, call 789-2800 and in Belvedere call 435-2611.
POWER OUTAGES & DOWN POWER LINES
If you come across a downed power line – stay away from it and call 9-1-1.  If you are not sure if it is a power line or another type, treat it as though it is a live power line.  Emergency personnel will respond and secure the area.  If a power line falls across a car that you are in, stay there and call 9-1-1.  Make sure you have flashlights and battery operated lanterns on hand, as well as fresh batteries.  If you use candles during a power outage, use caution and do not leave candles unattended.  Use sturdy candle holders that will not tip over and do not place them within a foot of anything that can catch fire, such as clothing or curtains.
DRIVER SAFETY
When driving in the rain use extra caution and always have your headlights on.  Remember, if you turn on your windshield wipers, turn on your headlights.  Please obey the speed limits and follow other traffic at a safe distance.
###
  STORM POTENTIAL ADVISORY
 December 9, 2014
 The Tiburon Fire Protection District would like to inform you of a potential storm event. We are recommending that you take any steps you feel necessary ahead of the event. Below is the National Weather Service announcement:
Beginning Wednesday night the National Weather Service is forecasting a very wet storm system will bring substantial rainfall to our area beginning Wednesday night over the North Bay and spreading to the South through the day Thursday. Rain will likely be very heavy at times which will increase the risk for flooding.
 Rainfall amounts are expected to range from 3 to 5 inches for North Bay valleys. An inch and a half to three inches for most urban areas for the San Francisco Peninsula and Monterey Bay region and up to 8 inches in the Costal ranges.
 In addition to the very wet weather there is a high wind warning in effect from Wednesday night through Thursday evening for the entire San Francisco Bay region. We are expecting winds of 25 to 35 MPH with gusts to around 50 MPH for urban locations. Winds of 30 to 50 MPH with local gusts over 70 MPH for the higher elevations are forecast.
 Tides coupled with the rainfall expected will pose an additional threat to the lower lying areas and some intersections. Models for this event are indicating "the potential for a significant and extensive rain and wind event." Discussion has indicated that this system will pull tropical moisture in creating a similar event that we saw during the New Year's Week storms from 2008.
We all know that weather events can be difficult to forecast; the Tiburon Fire District, USAR and NWS will be monitoring this very closely over the next few days. With this occurring we should begin thinking about actions to take in preparation for a potentially significant winter event. Some suggestions for preparatory actions:
Acquiring equipment as necessary (i.e. sandbags, plastic tarps)
Moving valuables/important papers away from flood prone areas
Stage equipment where it will be needed (i.e. sandbags, tarps)
Clearing storm drains on and around your property
The Tiburon Fire Protection District is monitoring the weather situation and will respond to problems as quickly as possible, with our priority (as always) being "emergency incidents".
 ###